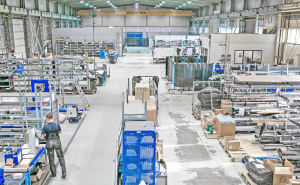 PONAR Indu­strial is a com­pa­ny spe­cia­li­zing in the instal­la­tion of indu­strial machi­ne­ry, main­te­nan­ce of lines and tech­no­lo­gi­cal lines, and pro­vi­ding all the neces­sa­ry servi­ces rela­ted to the­ir servi­ce, con­trol and maintenance.
The main area of ​​our acti­vi­ty is com­pre­hen­si­ve servi­ces in the design and con­struc­tion of tech­ni­cal instal­la­tions for vario­us indu­stries. We assem­ble instal­la­tions, pipe­li­nes and instru­men­ta­tion in the field of power hydraulics.
We also pro­vi­de servi­ces rela­ted to the assem­bly of pro­duc­tion machi­nes and tech­no­lo­gi­cal lines. The offe­red solu­tions are based on the know­led­ge and expe­rien­ce of coope­ra­ting engi­ne­ers and spe­cia­li­sts. We have our own indu­strial faci­li­ties and access to the latest tech­no­lo­gies and research.
As a result, the solu­tions we offer are modern, relia­ble and adap­ted to the diver­se needs of our custo­mers. A com­pre­hen­si­ve appro­ach to the task car­ried out ensu­res them the imple­men­ta­tion of pro­jects at the highest level, con­tri­bu­tes to the reduc­tion of costs. Take advan­ta­ge of our indu­stry expe­rien­ce, pro­ven solutions!